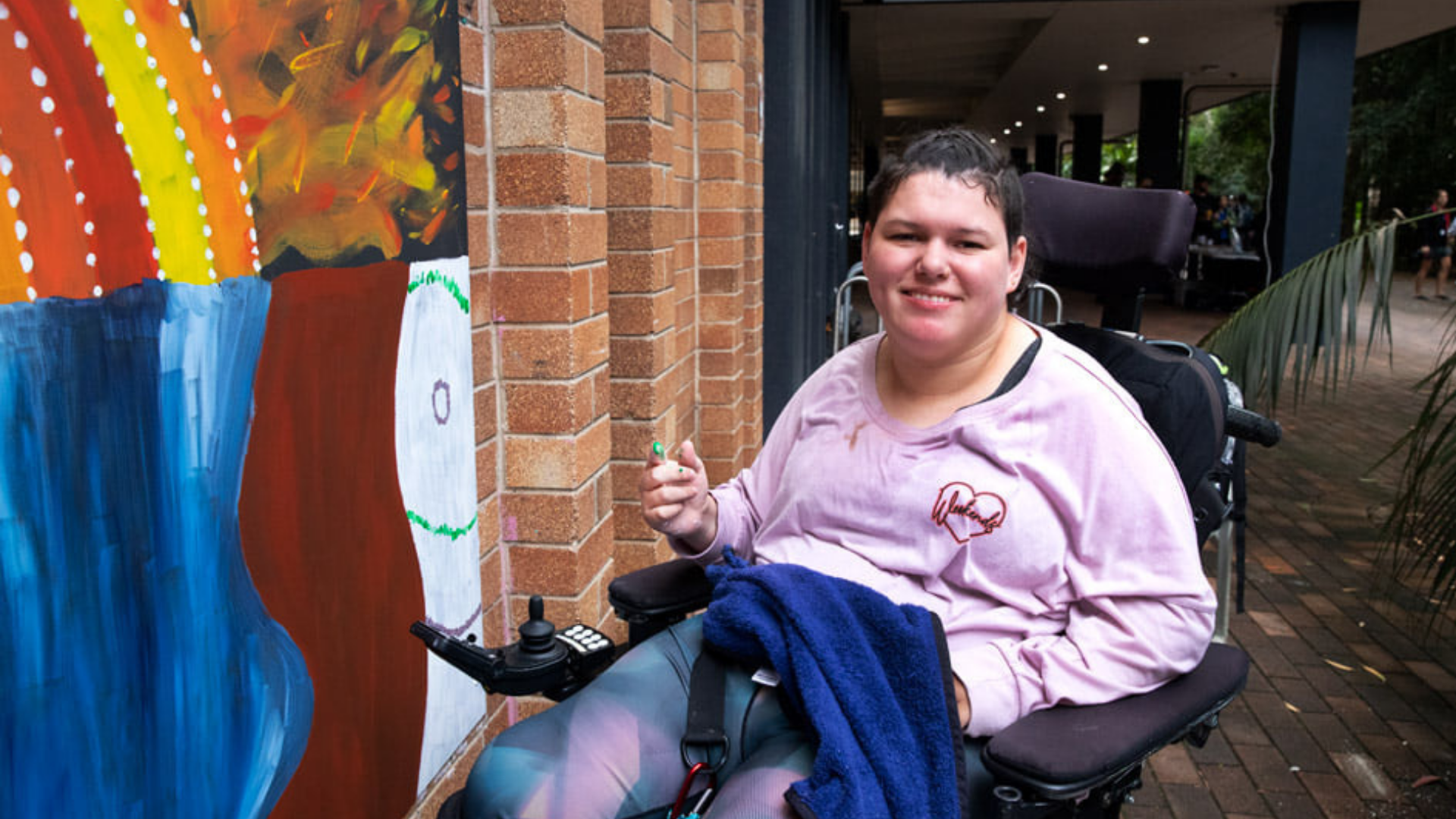 Indigenous artist Jordan Taunton overcomes adversity
In honour of NAIDOC week 2021, we spoke with 20-year-old indigenous artist Jordan Taunton, from the South Coast of Nowra.
Early last month, Jordan was one of 6 feature artists to attended Live Art Week where she painted and brought the campus to life with her amazing traditional piece of aboriginal art, which now sits proudly at her place.
Jordan's story is unique, to say the least, and she has overcome a lot of adversity to become the inspiring young woman and artist she is today.
"I was born 12 weeks early and was diagnosed with Meningoencephalitis Type II Chicken Pox Virus. I was also diagnosed with Cerebral Palsy. I am currently in a wheelchair and was only able to speak at 8 years old".
Jordan learned to communicate and speak using a speaking board and sign language. Further adding to Jordan's struggles, she was diagnosed with a brain tumour at just 12 years of age.
"At 12 years old, I had a brain tumour, which meant I had to learn how to speak again. In high school, I was bullied very badly every day, as kids picked on me for being in a wheelchair".
While navigating through high school Jordan was asked by one of her teachers, to create a video about her life story to share with students. Jordan says the opportunity had an immense impact on her high school journey, after the video the bullying stopped straight away.
Jordan joined the Australian Indigenous Mentoring Experience (AIME) as a mentee during high school.
"I started AIME as a mentee and I learned lots of things during school. I want to mentor with AIME and I would like to learn more about my indigenous background too"
When asked about her journey on the road to becoming an artist Jordan shared that she knew she wanted to be an artist in year 10.
"When I was 12 I spent time at the Ronald McDonald House and Sydney Children's Hospital and did lots of arts and craft. During year 10 I realised I wanted to be an artist, and that one-day I would have my own studio".
Jordan showcases her art digitally on social media and has also had her art on exhibition in the Shoalhaven Art Gallery. Every Wednesday night Jordan attends Shoalhaven River College for Art Classes.
"My dream is to be a famous artist one day, I love art and craft. It makes me happy when I do it and it helps me with my anxiety."
Thank you Jordan from all the Pulse team for sharing your journey and your art with us.