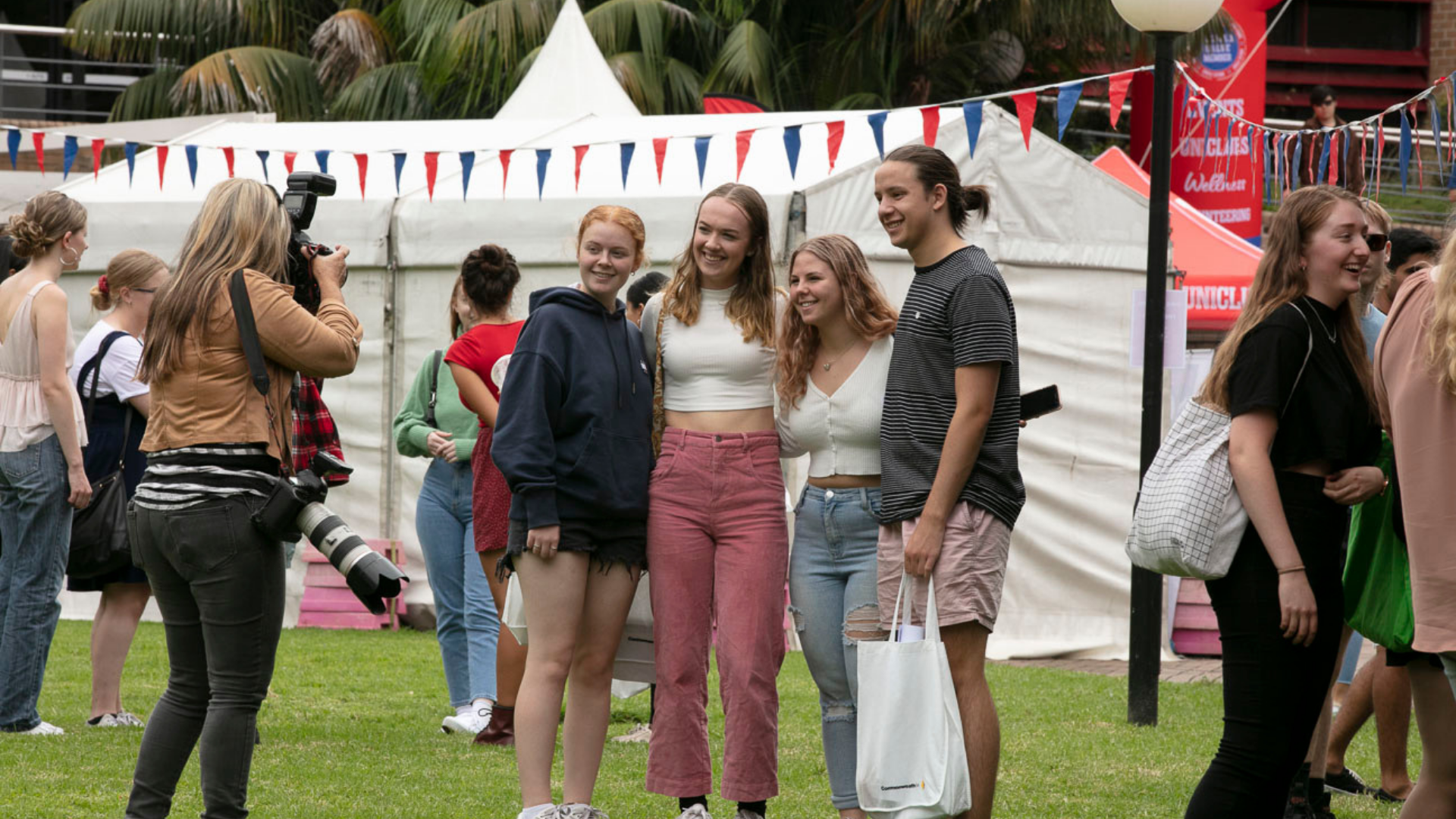 Your Student Guide to Everything Campus Fest
Campus Fest is finally here! That's right it's the week you've been waiting for. Whether it's your first, second, or final year on campus it's highly likely that given the unprecedented times we've all endured over the last couple of years, this could very well be the first time you're experiencing life on campus!
Starting or returning to university can be totally overwhelming and stressful, but it's also a time to take a deep breath and enjoy all of the commotion on campus as you're met with live music, free events, campus tours and a chance to mingle with fellow students at free student events!
Plan out your Campus Fest itinerary
O-week can be totally overwhelming, with the craziness of the buzzing campus and new faces everywhere, along with classes to wrap your head around! One of the best things about O-Week is that there is something to suit everyone. Whether it be introductory course lectures, campus tours, society events, or the freebies and student only parties!
However, this doesn't mean that you have to attend each and everything on offer. Remember, this can be exhausting! We recommend researching what is on offer beforehand and scheduling the events that interest you most! You can find out all your O-week and Campus fest information here.
Check out the Festival unique to Campus Fest (11am – 3pm) each day. With live music including Montagne, Ziggy Ramo and Touch Sensitive.
Engage with UOW service providers, clubs, societies and sign up for co-curricular experiences.
Enjoy free entertainment, games, food and more.
Register your interest for free Pulse events including, Pool Party, Comedy Night, O-Party Drag Show, Trivia and more!
Get the serious stuff sorted
Attend your Orientation Welcome session. This will provide you with important information about starting at UOW and answer any questions you have about your studies. To register for UOW orientation sessions visit UOW's Website
Attend a Transition for Success Session. We've put together a suite of online workshops and information sessions, video tutorials and other resources for topics like using the Library, navigating UOW's Student Online Services (SOLS), understanding your fees, accessing support services and heaps more. For more info click here.
Get your textbooks sorted early! The UniShop is located outside building 11 next to the Campus Pharmacy and can sort you out with all your textbooks and study essentials leaving you with time to enjoy the fun stuff campus fest has to offer! Want a cheeky 10% off your textbooks and study essentials? We can help you out with that with a Pulse Perks membership! Click for more info!
Open yourself to new experiences
Ask questions, make mistakes, be unsure! O-week is a time to learn, explore and have fun! If you're feeling stressed just remember there are hundreds of other people new to university life in the same boat!
Register your interest for a Pulse event to meet fellow students and to have some well-deserved FUN! For the full event schedule click here!
Take a campus tour to find your surroundings!
Join a club or society that might be outside your comfort zone or your passion!
Bag some great discounts and freebies
Speaking of freebies, O-Week is often packed with awesome offers for students! We've got a list a mile long of participating outlets setting up to hand out goodies and student discounts to attendees. You can score some neat vouchers and discount codes, or useful items. There's also free food, live music and other social events on offer, allowing you to save some serious coin.
That's right, O-week isn't just about exploring campus and meeting new people! It's a time to score on and off-campus discounts and freebies! If you're new or returning to campus be sure to head to the Pulse Tent and signup for your Pulse Perks membership! Enjoy Instant credit to spend and exclusive discounts on food, textbooks and uni essentials plus heaps more for the year! Click here to join!
Find out more about how you can claim your free 2022 Pulse Perks membership as a Thank You from UOW click here!
Join clubs and societies to meet new people with shared interests
Joining a club or society is an excellent way to kick start your university year! They're also a great way to meet people who have similar interests to you and a fairly cost-effective way of socialising, as most are free to join and participate in. There are a hundred different clubs and societies to choose from and if you don't see something that grabs your interest you can literally start your own! To find out more visit the UniClubs page on the Pulse Website.
Get active on socials and stay in the know
Where's the fun at!? Did you know that almost all your exclusive student Pulse events, including activities by Wellness, Pulse parties, campus events, giveaways and cheeky discounts can be found on our socials and via the Pulse Website!
Head over to our Facebook page and Instagram @uowpulse_yourunilife to keep in the know about everything campus life! You'll also find everything you need to know when it comes to eating and shopping on campus as well as cheeky discounts on @uowpulse_eatshop!