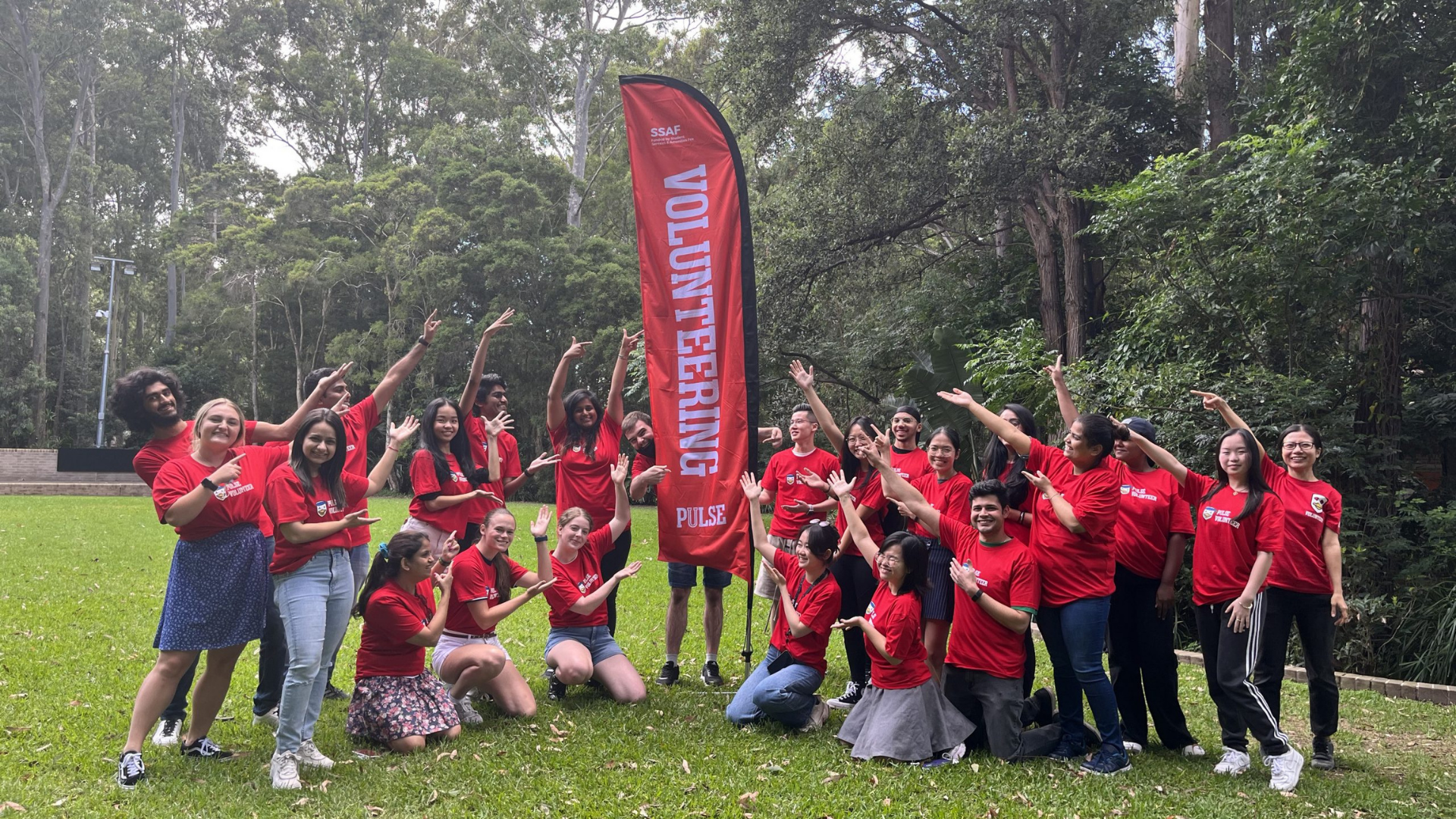 Why you should become a UOW Pulse Volunteer
Gaining real world experience through volunteering is a great way to increase your employability, gain new skills, meet new people, and have a bunch of fun along the way! While volunteering at UOW Pulse you will find a bunch of culturally diverse, hands on people all working towards different goals and building skills for life.
Get your daily dose of good karma by volunteering with UOW Pulse!
As a Pulse volunteer, you'll help
Support local charities
Promote sustainability on campus
Run workshops
Conduct tours
Help your peers stress less
Help at events and gigs
Pulse Volunteering is recognised by the UOWX program so you can get formal recognition on your university transcript upon graduating. At the heart of it all volunteering is about the connections that you can build and the rewarding experiences that you endure during your time being a student at UOW. This blog will explore our top reasons for Joining the Pulse team as a UOW Pulse volunteer.
Become a leader
Leadership skills are a great asset to career building! Whilst at university volunteering programs often help you to build the basic foundations of becoming a leader! You'll get the opportunity to work with a bunch of your fellow cohort, and you'll be given the opportunity to explore a range of different leadership and team building opportunities! Taking control at events and workshops and have your say! Volunteering also has the added impact of benefiting "individual employability" (e.g. building skills, confidence, and wellbeing), but for this to weakly translate to employment outcomes.
Stand out from the crowd
Ever wanted to be the one that stands out amongst others! Well volunteering could be for you! While volunteering at UOW Pulse you'll get the opportunity to work on unique projects at unique events and network with people you might not otherwise have the opportunity to meet!
The connections you make at university can often carry on into your future building lifelong connections that will last long after your studies are complete! The people you meet while volunteering often become friends for life!
Achieve study life balance
Ever find yourself in a study cycle unable to break the constant stress of university work and the need to take a break? Well then volunteering at UOW Pulse might just be for you! Whether you are in you first of final year of study joining the UOW Pulse team as volunteer will give you the opportunity to break away from your studies and clear your mind while doing something fun and rewarding.
Build employability boosting skills
Ensuring that students leave university as employable graduates is a critical element of university and career development! Studies indicated that students are more motivated during their university studies to undertake voluntary extracurricular work to give them work-based experience that will enhance their future prospects for both employment and postgraduate study!
Be a part of something truly rewarding
There are aspects of volunteering that go far beyond simply volunteering! That's right volunteering can be really rewarding! It's been said before that we tend to feel good about ourselves when we are doing good things for others, and being a UOW Pulse volunteer is no exception!
Enjoy being a part of exclusive events
While working with UOW Pulse as a volunteer you'll get the opportunity to be a part of student base events that allow you to network with your fellow peers and also meet staff and alumni you might otherwise not have had the chance to connect with!
Get involved
There are heaps of volunteering opportunities to explore while you study at the UOW! From events, gardening, handing out food, ticketing and so much more. There is always something to do to help out.
Community
We often partner with community organisations to provide volunteer opportunities when they need the extra help. The Community Volunteering Project is open to all students and runs in Spring Session. Teams of students partner with a local community organisation and complete 32 hours of volunteering over 10 weeks.
Health and Wellness
The Wellness by Pulse program offers student's avenues to meet new friends, reduce stress and promote positive wellbeing whilst they complete their academic studies. Volunteers can assist in running workshops, Bend & Snack, Wellness Wednesdays, Stress Less Week, R U OK? Day and more.
Events and entertainment
Love gigs and events? Volunteers play a huge part in the running of all our Pulse Events! They assist with Campus Fest, Live Art Week, and all our Student Parties. They also run our weekly events such as Trivia and Lunch on the Lawn to help students meet new friends and socialise on campus!
Environment and sustainability
Pulse has always strived to spread the word about sustainable living. You can join us in environmental initiatives such as workshops, beach clean-ups, tree planting days and helping out at the Pulse Community Garden.
If you are interested in finding out more about Volunteering with UOW Pulse head to the UOW Pulse Volunteering page to find out more!