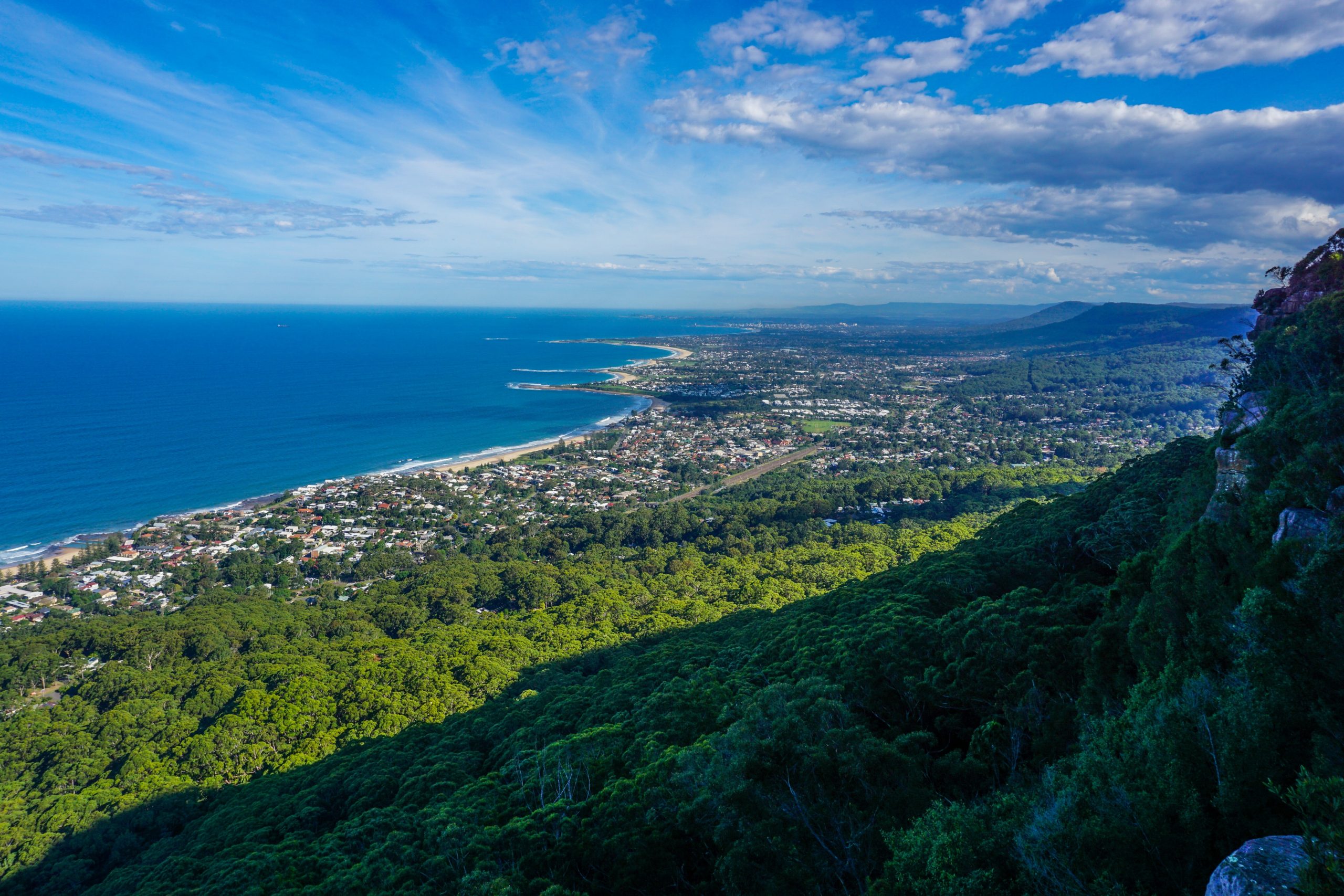 WALKING TRAILS NEAR UOW CAMPUS
Whether you are looking for a challenge that keeps up your fitness or an easy walk to wander and explore. Recharge and clear your thoughts with one of the many walking tracks Wollongong has on offer!
Check out these epic walking trails all located within 30 minutes of UOW's Wollongong Campus. Surrounded by dazzling coastlines and picturesque mountain views that won't disappointed! If you are not from Wollongong, no worries check out what your local area has to offer and get outside to explore.
Walking checklist:
Check the most up to date restrictions in you LGA and be sure you are permitted to visit your chosen location during lockdown.
Keep your distance from other walkers
Jump online and ensure that trails are open and accessible at the time of your walk.
Make sure you have adequate sun protection, including a hat, sunscreen and sunglasses.
Wear enclosed shoes suited to walking or hiking.
Pack adequate water and snacks in a secure bag.
#1 Mount Kembla Summit Track – Distance from UOW: 27min, 15.4km
Distance Total: 3.4KM
Suggested time 3 hours
Part of a suite of walks in the Mt Kembla area, this trail plays host to beautiful views overlooking Lake Illawarra and the captivating Wollongong coastline. You'll be greeted by ferns, forest and fungi as you embark on the Summit track, the path is well hidden so be sure to follow signage and stick to the trail.
Wildlife to Spot: Lyre Bird
#2 Sublime Point Track – Distance from UOW: 17min, 19km
Distance Total: 1.4KM
Suggested Time: 1 – 2 hours
Sublime Point Track is one of the most Iconic locations for hiking within the Illawarra! This fantastic trail is a challenging trek that descends down the escarpment cliffs through dense forest. Home to breathtaking views of the Illawarra, a series of trails, ladders and giant stair cases form Sublime Point Track making it ideal for the experienced bushwalker.
Wildlife to Spot: Yellow-tailed Black Cockatoos, Falcons
#3 Brokers Nose – Distance from UOW: 19min, 10km
Distance Total: 4.6KM
Suggested time 3.5 Hours
Located within the Illawarra Escapement State Conservation Area this family friendly track is an easy to moderate walking trail. Taking you through primarily dense bushland filled with tall trees, you'll be provided with shade for majority of your walk!
The end of brokers Nose brings you to at an epic lookout boasting amazing views of the Wollongong city so be sure to bring your camera and snap a selfie or two!
Wildlife to Spot: Kangaroos
#4 Mt Keira Ring Track – Distance from UOW: 23min, 13km
Distance Total: 5.5KM
Suggested Time: 4.5 hours
Encircling Mt Keira in the heart of the Illawarra bushland, Mt Keira Ring Track is a 5.5KM loop. This track tackles varied terrains from cool sub-tropical bushland to rocky mountains and natural rainforest. The track will take you around 4.5 hours to complete and adjoins to Byarong Park Picnic area, which is great for parking and starting your trek.
Wildlife to Spot: Echidna, Eastern Blue Tongued Lizard, Wallaby
#5 Maddens Falls – Distance from UOW: 22min, 28km
Distance Total: 1.5KM
Suggested time 1.5 hours
Found in Dharawal National Park and filled with an abundance of wildlife, this scenic walk alternates between dirt paths and boardwalks. The trail leads you through woodland and swamps filled with wildflowers and sprawling ferns. Providing sweeping views of the falls this short and relatively easy track is one to add to your list of walking trails.
Wildlife to spot: Tree Frogs, Honey Eaters, Red Wattle Birds