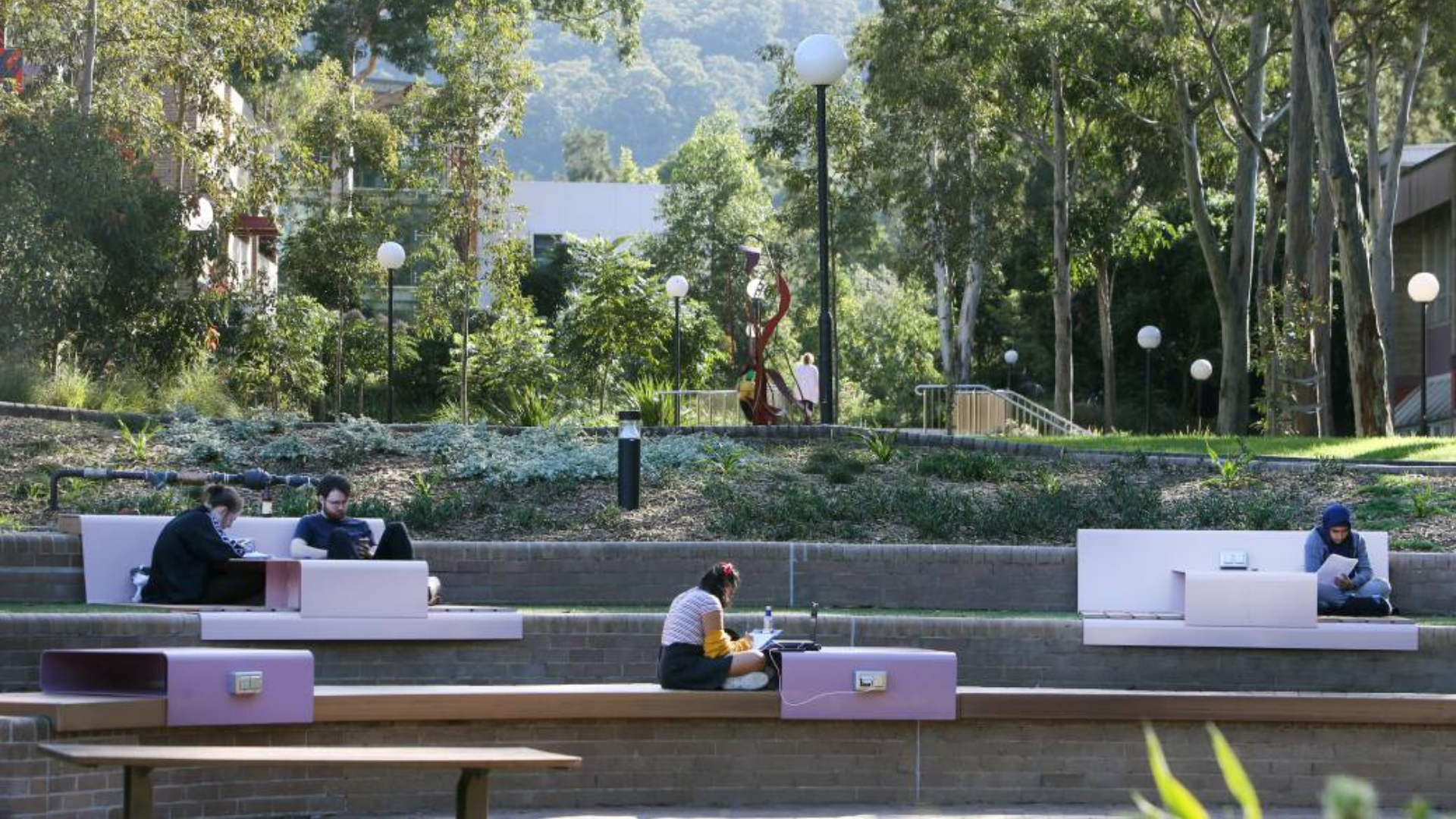 UPGRADE YOUR STUDY SPOT
Let's be real… when it gets to the busy end of semester, it often starts to seem like the UOW library is a daily destination. While we love it, sometimes it helps to mix up your study spot. Here's our top 5 campus study spots that aren't the library! 
1. Upstairs in Building 11 – Student Lounge 
If you like to study in the middle of the hustle and bustle, this is the spot for you. The Student Lounge upstairs in Building 11 is filled with comfy lounges, huge tables for all your group assignments, and big windows so you can get some Vitamin D. Not to mention the food court is downstairs, so you can easily duck down for lunch or a quick snack! 
2. Early Start Building – Building 21 
Upstairs and in the middle of a maze of tutorial rooms, this study area feels top secret. Here you'll find a big space perfect for putting your head down and smashing through your work, or for meeting a few friends to go over lecture content. Even better, there's a kitchen area with a microwave, fridge, and hot and cold water, so you are all set for a day of studying. If you fancy a break in the sun, there's a balcony with some tables and chairs too. 
3. Building 29 
Need somewhere peaceful to study? Head to the newest building on campus, Building 29. With desks and lounges lining the floor to ceiling windows on the two upper levels, this is a great spot for when you're studying solo. If you need to heat up your lunch while you're there, you'll find kitchen facilities a few steps down the hallway. 
4. Building 41 Huts
Fancy studying outside? Wander down the path outside The Sciences Building (Building 41) and you'll see a row of covered seating areas. Each has a small table and fits 3 – 4 people, so is the perfect place for a group assignment catch up. Head on down for a sunny study sesh! 
5. The Ampitheatre
Our final study spot is a second outdoor area. In between The McKinnon Building (Building 67) and Building 36, you'll find a tiered seating area. If you like to lounge while you study, pay this area a visit! With low tables built into the seating, power points throughout the area, and the McKinnon food court just a few steps away, this is a great spot for a sunny day.