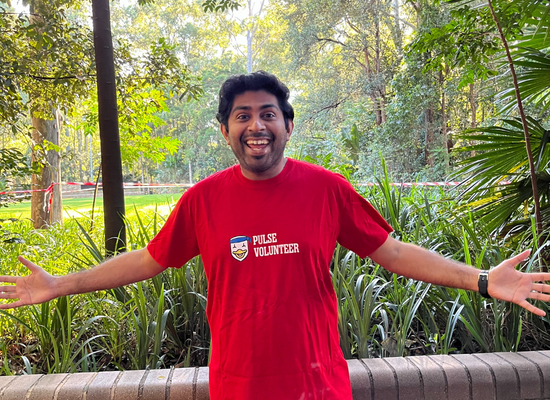 VIGNESH RAJENDRAN
Moving to UOW after the Covid restrictions, I was not merely looking to complete my degree but looking to create a lot of memories and friends. With the on-campus experience, I wanted to be inspired, feel passionate, be challenged in various fields, do something that encouraged and empowered me to participate in a variety of team events and contribute to the UOW community.
Signing up for Pulse volunteering and being an ever-present member of the team helped me achieve all my goals. The UOW Pulse program has a creative environment and encourages us to interact and engage with the student community constantly. I liked the mindset and culture of the team, and along with their free-spirited nature has allowed me to confidently engage and interact with other students and peers. The Pulse team regularly conducts a variety of events and presents numerous opportunities, for students to be actively involved on-campus. Few events such as Campus fest, Goodwill hunting, Pulse community garden, Brekky Bar, Wellness Wednesdays, and Pulse pantry constantly challenged me and helped me build new skills such as Leadership, organisational skills, communication, and event management.
With the Pulse volunteering opportunity, I was able to make a positive impact to the UOW community and leave with good friends and memories.