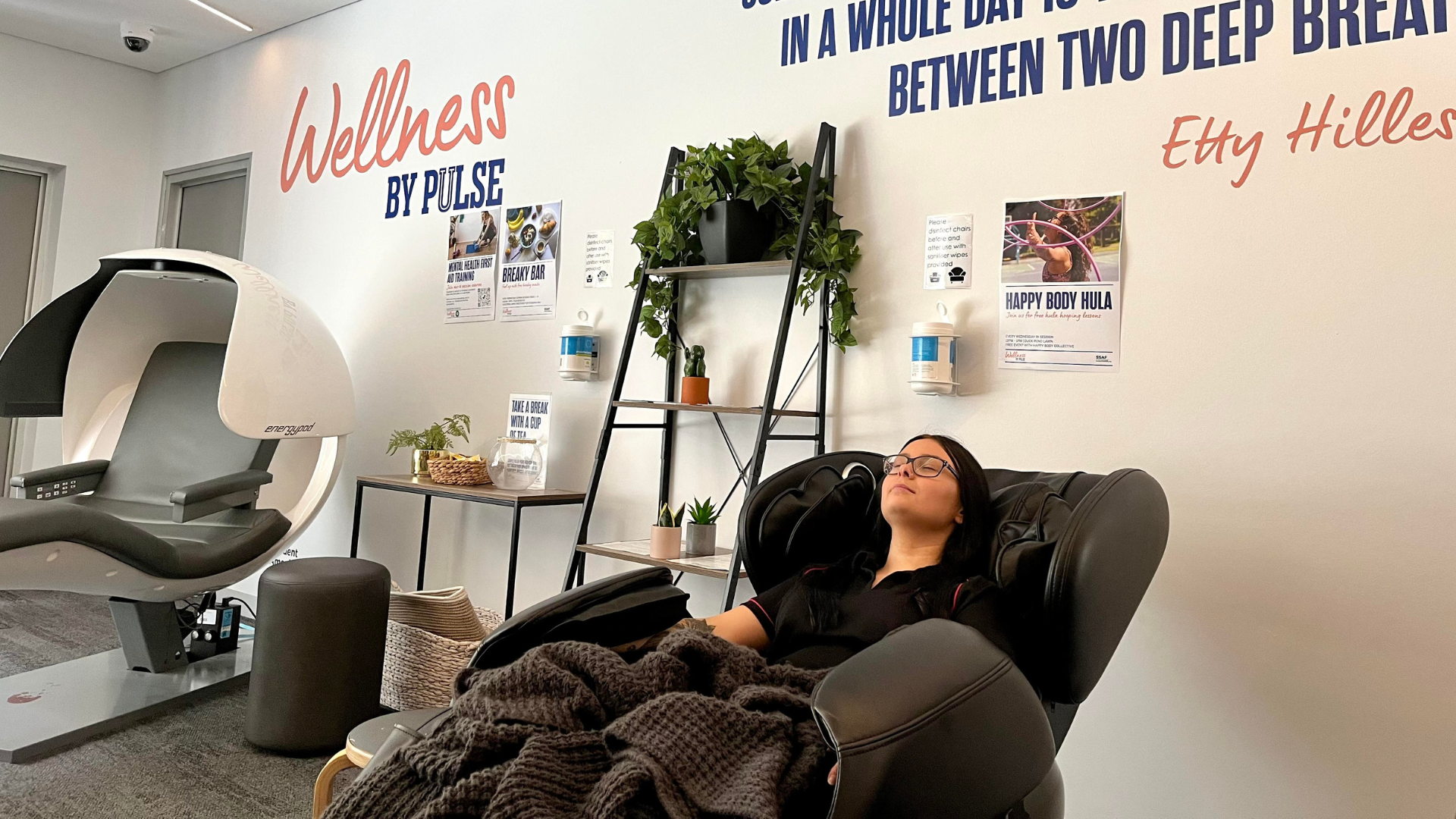 RELAXING ON CAMPUS
Did you know that October is Mental Health Month? As we get towards the pointy end of semester, don't forget to take time to check in with yourself and others, and have a break to re-energise if you need it. If you are at uni and need to take a time out, here's our top 5 spots for relaxing on campus. 
1. Wellness Space 
For a zen atmosphere, the Pulse Wellness space is the place to be! Upstairs in Building 11, this area is filled with comfy cushions to lounge on, blankets to keep you warm, a nap pod, and even four massage chairs! If you're feeling like some peace and quiet, come and check out this space. 
2. Student Lounge 
For a more lively place to relax, why not spend some time in the Student Lounge? Located in Building 11, the Student Lounge has Table Tennis tables, study areas, lounges, and even a mini arcade! This area is ready to match whatever mood you are in. Don't forget the food court is right downstairs too, so it's perfect for a lunchtime chill out sesh. 
3. Jugglers Lawn 
The Jugglers Lawn is a great spot for relaxing in the sun. Tucked away behind the UniBar and Duckpond Lawn and out of the main hustle and bustle of campus, the Jugglers Lawn has a row of deck chairs which are perfect for a sunny snooze. 
4. Duck Pond Lawn 
If you're looking to relax outside but still want to be surrounded by campus life, you can't go past the Duck Pond Lawn. On a sunny day, we love seeing students and staff enjoying some down time on the grass and the decking. Come down on Tuesdays and Wednesdays for Lunch on the Lawn to add some live music to your day. 
5. Building 41 Huts 
Our last spot is another beautiful outdoor spot, the wooden huts along the side of Building 41. Enjoy the peaceful ambiance and spend some time chilling out, or make the most of the tables to get some uni work done! 
If you need an excuse to slow down and have a zen moment this week, testing out some of these spots is the way to go! Take some time to have a breather and reset before the busy end of year period ahead.