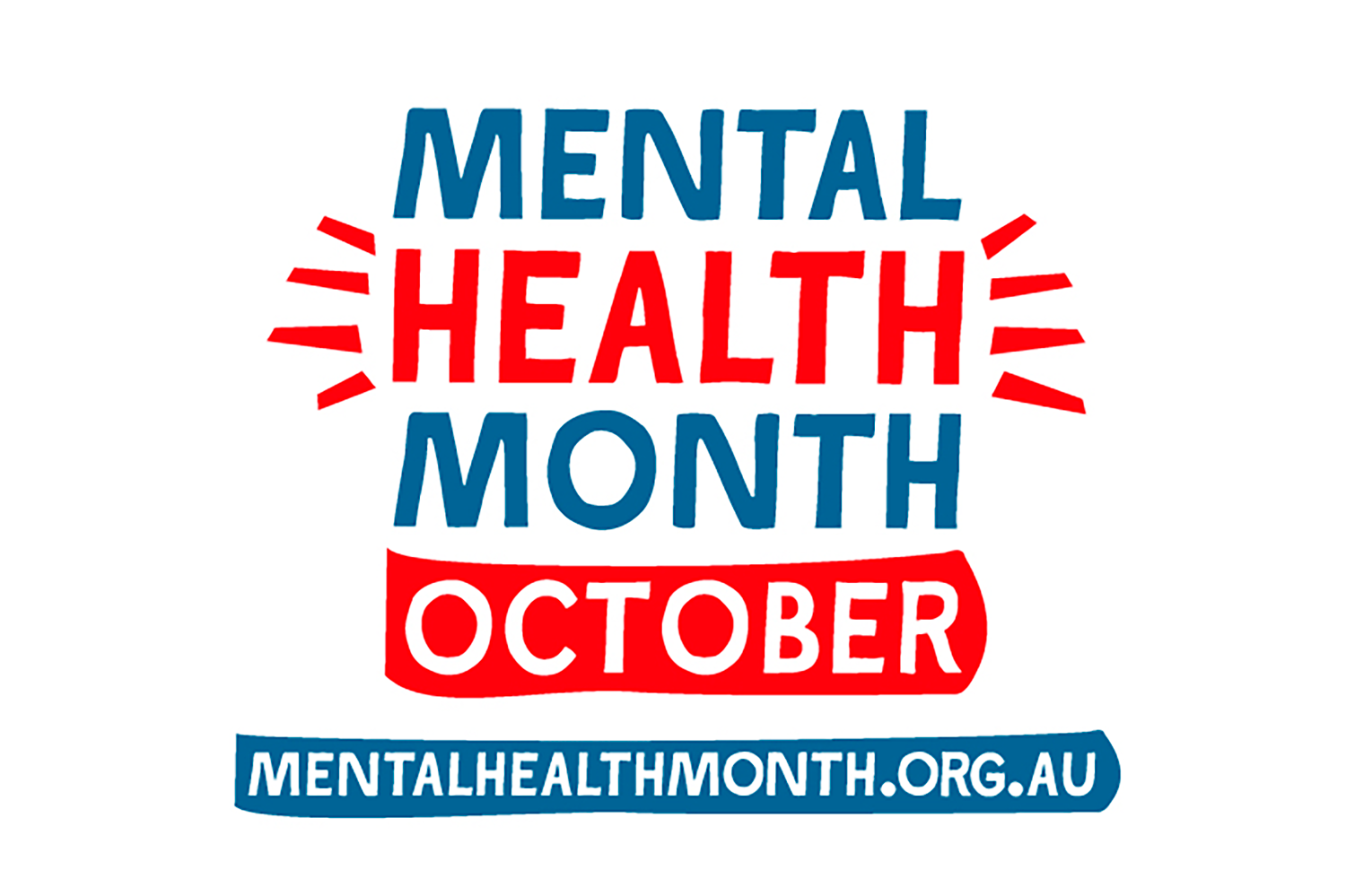 Mental Health Awareness and YOU!
Did you know that October 1st – 30th is Mental Health Awareness Month? It is a call-to-action for the one in five Australians affected by mental illness annually, and for the many more that may be struggling.
Mental Health Month's national governing body is the Mental Health Foundation Australia and in each state you'll find different organisations paving the way for mental health awareness! This year, in New South Wales, WayAhead's theme for Mental Health Month is 'Tune In'. The campaign is designed to encourage people to tune into their own mental health. Tuning into your own mental health means being present, it is about being aware of what is happening within you, and also in the world around you. 
Taking a moment to tune in can help still your mind and focus, it can help you understand what's going on for you and others. Tuning in can help you find a new perspective, and it can help you reflect and be present. Tuning in might include things like: 
Listen to your own needs
Understand what makes you happy and how certain things impact your emotions
Set personal boundaries and make them known to people
Establish a routine
Take time out
Take time away from social media and technology
Roster in a self-care day
Take a step back from the things that cause you added stress and pressure
Make self-care a part of your "every day"
Spend a little time each day focusing on self-wellness
You may like to keep a journal and tune into your thoughts, feelings and emotions
Try a vision board- vision boarding is a great way to visualise and start your manifestation journey. It is important to remember to action the thoughts you express on your vision board to help your manifestations become a reality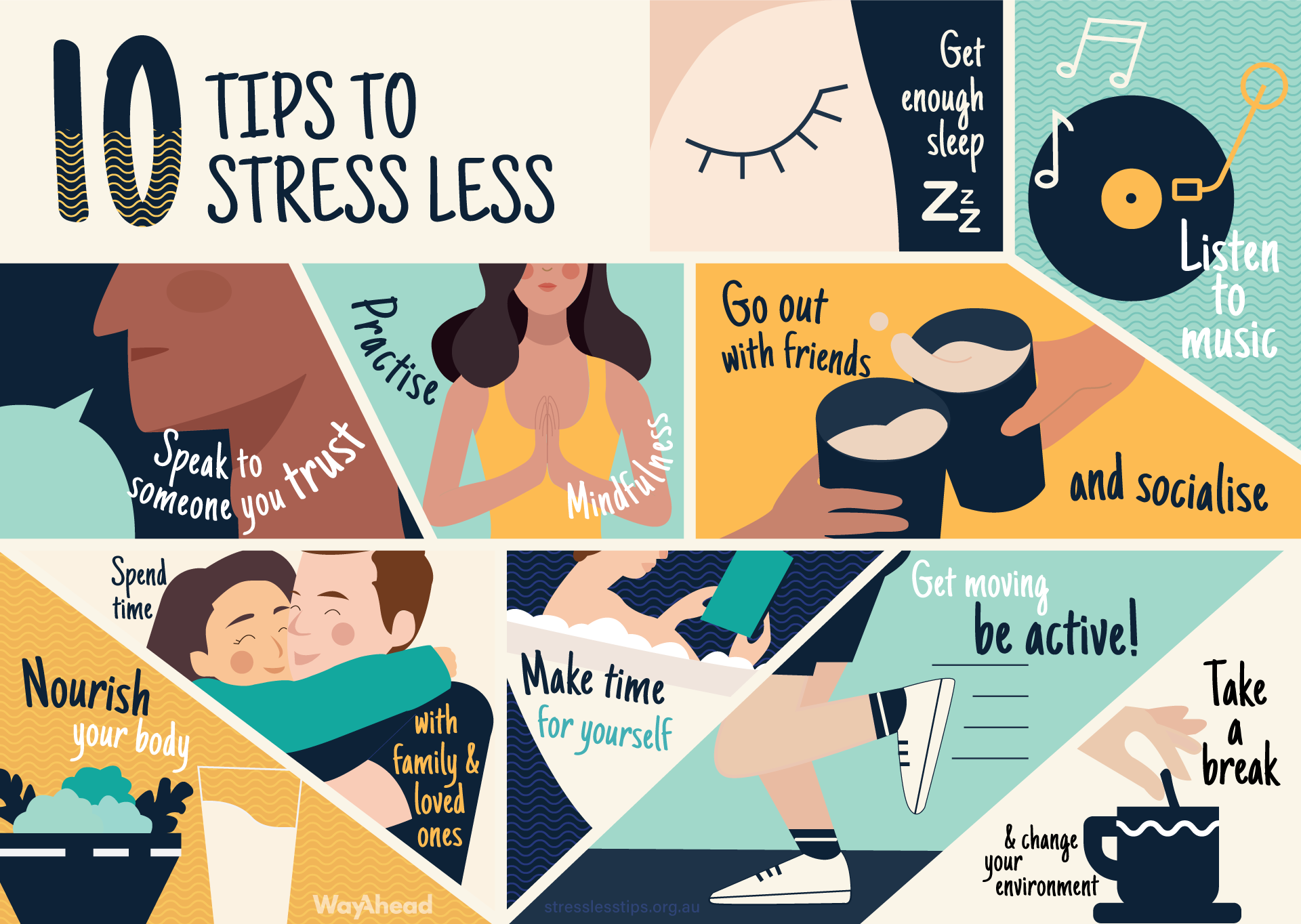 When it comes to a study and life balance we know that juggling university commitments and time for yourself can be extremely hard. Finding the right balance between workloads and your social downtime, among other aspects of your life is, often tough and can impact mental well being. 
Feeling stressed and anxious is a common response to being overwhelmed and under pressure, especially during peak study periods. While these feelings are common in high pressure situations like exams it is important to know when you're study might be weighing you down.
In honour of Mental Health Awareness Month we've comprised a list of tips and handy links that you can visit when feeling like university might be weighing on you a tad too much. At Pulse we know that work, study, social commitments and mental well being are hard to juggle so with the helping hand of Wellness by Pulse we've also created some handy resources in case you feel you need some extra help along the way!
Prioritising tasks
We often prioritise tasks according to the needs of other people or the need to meet specific deadlines but did you know that prioritizing tasks effectively is actually a lot harder than it sounds! There are a few simple steps that you can take to make sure you are prioritizing your tasks effectively on a daily basis. Task prioritisation should drive value and purpose and keep unimportant tasks from getting in the way. You might like to consider the following when prioritising your tasks:
Writing a list and breaking it down of days of the week.
Separate your tasks from urgent to less important tasks
Rank daily tasks by priority
Prioritise your most important work within your most productive hours.
Remember, not everyone shares the same productive hours if you find yourself more productive after exercise or first thing in the morning then it's a good idea to note that these are you most productive hours and allocate tasks accordingly.
Take Screen Breaks and Detox from Digital
Have you ever found yourself to be a little too fixated on your social media accounts? While being connected and immersed in the digital world is a part of everyday life, it's important to recognise the difference between just the right amounts of digital verses mindless scrolling. Detoxing from digital doesn't have to be a complete separation from immersing yourself in social media, you might like to try the following:
Set a limit of screen time per day
Switch your phone off while out for a walk or exercising
Limit your usage before bed and when you wake up
Some studies indicate that taking a scheduled break away from a smartphone or digital device can help to lower your stress levels, leaving you calm and feel content. Putting the laptop down can be just as beneficial as detoxing from the mobile phone. If you find your fixating on a due date and not really getting anywhere taking a scheduled break from the screen can leave you feeling refreshed and ready to pick-up where you left off.
Get Enough Sleep
Did you know that you will spend around a third of your life fast asleep? Sleep is essential, it is one of the most important recharge methods our body uses daily. But recharging with sleep isn't just a key benefit to maintaining physical health, it is also important for our mental exertion as well.
The sleep cycle actually allows for our bodies and minds to repair themselves and improve cognitive functions and information processing. That's why, as good is you might think it is, pulling all-nighters to finish university assessments it's actually less effective and often results poorly.
Socialising with Friends and Family
Whether you are using zoom for virtual catch-ups or heading out for a walk or a picnic with friends or family, if restrictions allow. Remember staying connected and catching up with friends is a great way to spend time and unplug from university work for a while! It's important, from time to time, to take a moment to have a chat, enjoy a laugh, and share some social downtime, staying connected is more important now than ever as we navigate through unusual and difficult times so if you are feeling uncertain or anxious unplug, call a friend and catch up for a chat.
Talking to Someone you Trust
Talking to someone you trust can help you to sort through problems and see situations more clearly! It might be as simple as speaking to a close friend or family member or even scheduling some time to chat with a lecturer about your workload. Having a chat or starting a conversation is also a great way to release any built up tension and give fresh insight as well as helping to identify problems.
If you feel you are struggling and need support with your mental health and well-being- UOW 24 Hour Student Wellbeing Support Line is here to help you navigate through these unprecedented times. You can visit the website here or you can contact them on their after-hours support line.
Helpful resources
Events calendar: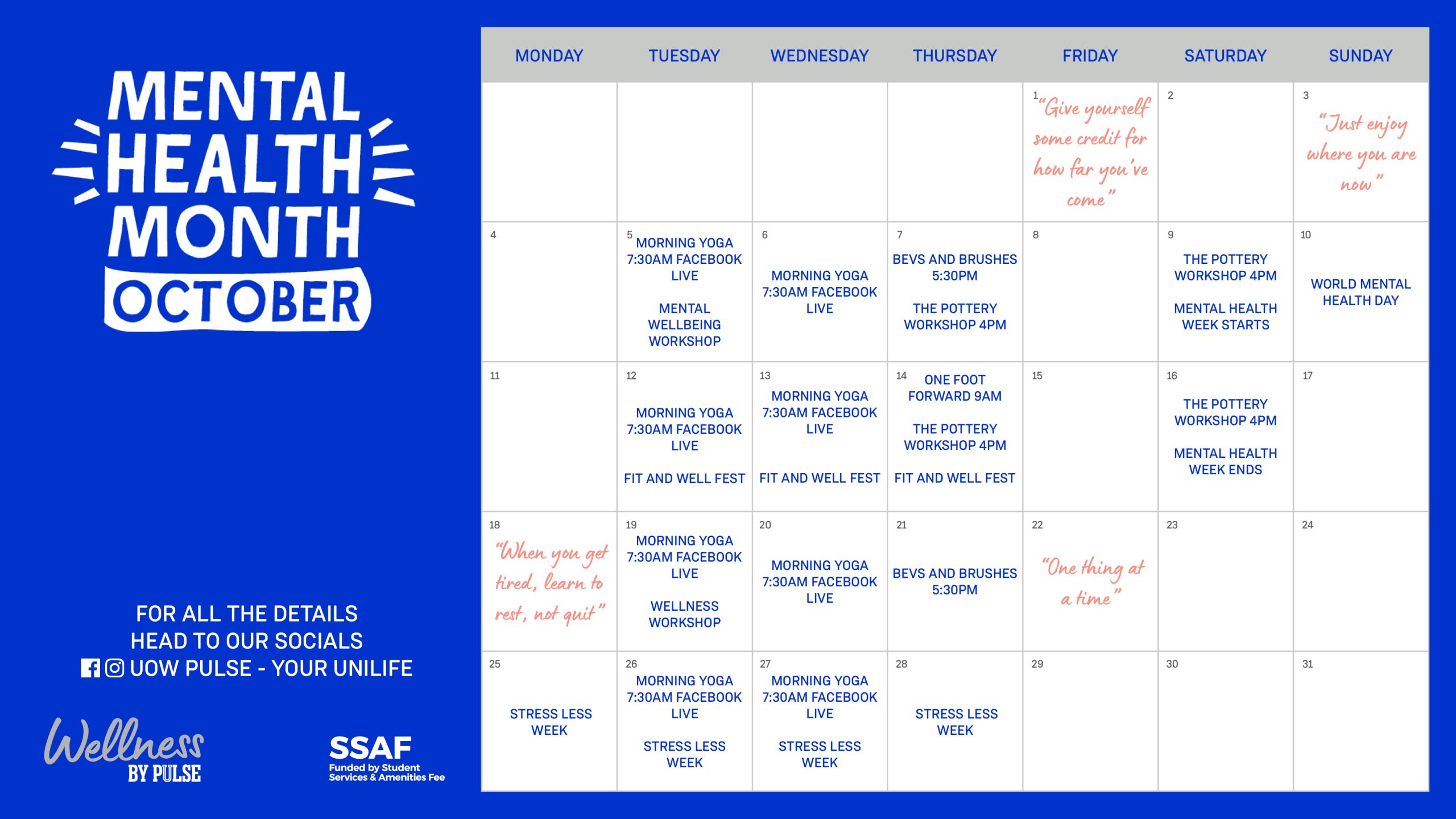 Pulse Events you can get involved in