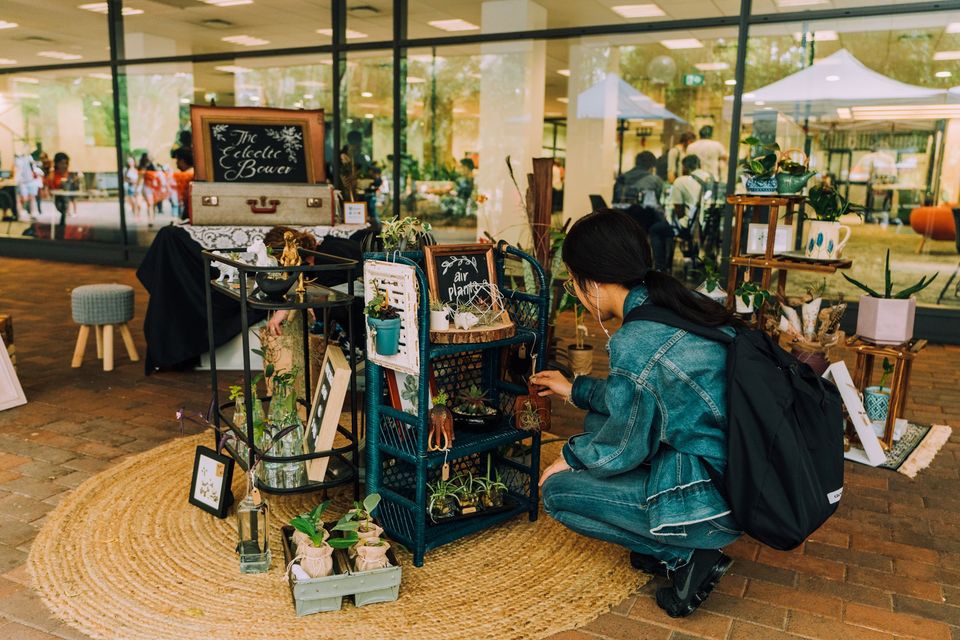 Fun things to do in Wollongong on and off campus!
As you start to dive deeper into your study this semester it is important to remember to take some time out from your workload! Whether you're rewarding yourself for completing an assessment task or just need to step away from the textbooks for an afternoon, getting out and about is a great way to unwind and reset!
You might like to forage at the local markets or find the thill you seek skydiving at 15ft! Wollongong is plenty full of fun things to do when you feel you need to put the pens down and close the study books for an afternoon!
Below you'll find a list of cool activities and attractions you can visit in the Illawarra! Whether you're new to Wollongong or just looking to explore there is something for everyone!
Check out the local markets
Local markets are a treasure trove of vintage finds and quirky crafts for locals and tourists alike. Regardless of the weather or time of year, you'll find some fantastic markets in and around the Illawarra!
If you're looking to spend your day enjoying local artists, Fresh food, flowers, vintage fashion, seasonal produce, handmade art and gifts galore, your local markets are a great place to start.
You'll find a bunch of different markets running almost every weekend in the Illawarra! Did you know the markets even come to campus? Every second Wednesday you'll find a bunch of call stalls on offer outside the library from art, plants and books to clothes and free food, and don't forget you can always visit Green Connect on campus to pick up a pre-loved treasure!
Skydive in Wollongong
If you want to turn it up a notch you might like to soar through the skies 15,000 feet above sea level embracing breathtaking views of the pristine Illawarra coastline. This is the only beach skydive on offer in the Greater Sydney vicinity. There's no topping the drop from the Sydney Skies onto Wollongong's North Beach.
If jumping and soaring from 15,000 feet tickle your fancy, you can book directly through Skydive Wollongong. UniLife Members receive a cheeky discount!
If you're a Pulse Perks member you'll receive $30 off the total price.
Wollongong Art Gallery
If soaring at 15,000 feet isn't for you then maybe you'll enjoy a day checking out local art! The Wollongong art Gallery is a façade of art collections reflecting the history of Illawarra region along with art displays of local national and international significance. The Gallery is a great way to escape for an afternoon or pre-study morning exploring! You can find out the list of current exhibitions here!
Pulse weekly events
Might it be that you're on campus and you just need a fun break before or after class?
Well did you know that UOW Pulse packs each week full of fun events to get involved in! You might like to participate in Drag bingo at the UniBar or join Wellness by Pulse for free sport or yoga! Maybe you're interested in taking 5 and giving hula hooping a go with Happy Body Hula!
Enjoy lunch with friends at lunch on the lawn or head down to UniBar on a Wednesday for weekly trivia. You'll find a bunch of awesome weekly and one-off events on our socials or via the pulse website!
Check out the full calendar of events here and be sure to register for anything that takes your interest!
Wollongong Break Out Bar and Escape Rooms
Are you a fan of puzzles, working in a team, using communication skills and problem solving? Well then stepping out of the library and into an Escape Room might just be for you! An escape room is an experience unlike any other! Use your skillset to uncover clues, solve problems and unveil mysteries all while clearing your mind of lecture notes for an hour or two!
You'll find escape rooms in Wollongong just a short drive from the university!
Check out the Science Space
Did you know that you're very own Innovation Campus is home to the only dedicated science experience in NSW! Detailing how science and technology discoveries have become a reality this awesome spot it one to add to your list of activities in between study sessions!
The science space is located just a short drive from the main campus on the beautiful innovation campus and is a perfect way to challenge your brain before getting stuck into some serious study!
Try Yoga
Yoga is excellent for re-energising your body. Utilizing different stretches, movements, and breathing techniques can increase energy production leading to longer-lasting energy than a fast caffeine hit or sugar high! There are plenty of places you can participate in yoga on the south coast, and did you know you can even join Wellness by Pulse every week for a bending session before class!
Hike to the Sea Cliff Bridge Lookout
Grab some friends and put your hiking boots on for this epic view! Sea Cliff Bridge stretches between Clifton and Coalcliff, about 70km south of the Sydney CBD and 20km north of Wollongong. The 665m bridge has seen thousands of people walk across it to admire its beauty and can be seen from the Stanwell Tops lookout point in the Illawarra Region.
If you plan to hike this one for the spectacular views make sure you follow precautions and stick to the marked tracks! You can find great information on this study stopping trek here!
Visit Symbio Wildlife Park
What better way to release some study tension than a visit to The Symbio Wildlife Park! This family-owned and operated zoo is located in the suburb of Helensburgh positioned at the top of the breathtaking Illawarra escarpment. Just minutes away from Stanwell Park Beach, the world-renowned Royal National Park, Sea Cliff Bridge and also Bald Hill Lookout!
At Symbio you'll find all your favourite Australian native animals as well as exotic creatures! The Zoo is open 7 days 9.30am – 5pm and tickets are essential!