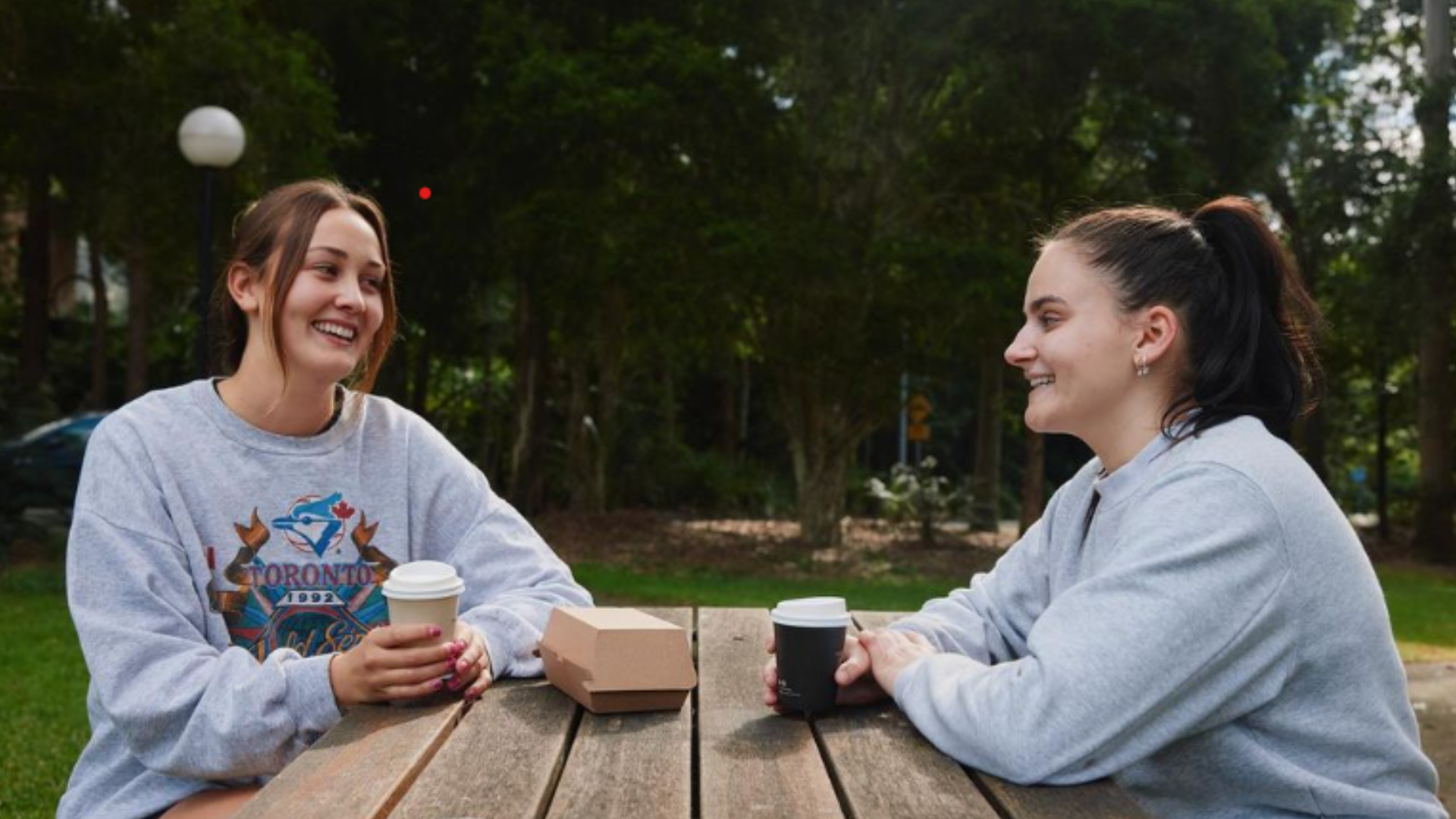 CATCH UPS ON CAMPUS
It's so good to be back on campus seeing everyone catching up with their uni friends, classmates, colleagues, and mentors. 
If you're looking for somewhere to meet for your catch up, here are some great spots on campus!
Deja Brew @dejabrewyou
Deja Brew is the newest cafe on campus and is perfect for a quiet spot on a sunny day! Located behind Building 7, Deja Brew does delicious coffees and hot chocolates, along with some light lunch options such as wraps, muffins, and pastries. Grab a loyalty card today to work your way towards a free drink and join Pulse Perks for 10% off! 
Panizzi @panizzi.cafe
Need somewhere for a quick catch up in between study sessions? Panizzi is the place to visit. Located outside the library, Panizzi has a wide range of snacks, sandwiches and salads, and hot and cold drinks. This cafe also has long tables, perfect for a casual group assignment catch up! If you're a Pulse Perks member, enjoy a bottle of Mount Franklin water for just $1.
Ugly Duckling Cafe @uglyducking_cafe
If you're up the top end of campus, Ugly Duckling Cafe is a great lunch spot. This cafe has both indoor and outdoor seating and is next door to the Early Start Discovery Space, so is perfect for kids too. With a menu including waffles, burgers, and nachos, Ugly Duckling Cafe is calling your name! Enjoy 10% off as a Pulse Perks member.
Aspire Cafe @aspireevents_
Aspire is quite new to campus and is located in the McKinnon Building (Building 67) food court. If you are meeting friends and no one can quite decide where they want to eat, this is the place for you! You can grab a coffee, pastry, or Buddha bowl from the fresh Aspire menu. Make sure to use your Pulse Perks membership for 10% off. 
Gypsy Jones @gypsy.jones.cafe
Gypsy Jones is one of the more hidden spots on campus, located opposite Student Central, Building 17. With bagels, brownies, and a range of toastie options, there is bound to be something to suit everyone. Even better, from 2PM – 3PM all hot drinks are half price. What a win! Receive 10% off your purchase with Pulse Perks. 
Hemingway @hemingwaycafeuow
If you finish up a lecture in the McKinnon Building and want a sunny spot for lunch, head to Hemingway! With a delicious range of burgers, salads, breakfast options and drinks, this spot is a must visit. Hemingway also hosts happy hours and evening events, so keep an eye out on their socials. Don't forget you can get 10% off your order with your Pulse Perks membership.
Yogabar @yogabar_
Yogabar is found within UniActive and has a great range of healthy treats! Finish up your workout and head over for a snack as a reward. With a $5 menu, Yogabar knows how to save you from breaking the bank! Make your purchase even cheaper with 10% off with Pulse Perks. 
UniBar @uowunibar
If you're craving a pub feed look no further than our very own UniBar! With good tunes playing and a menu sporting nachos, schnitzel, wedges, and of course the famous chip roll, it's a great pick for a social lunch. Feel free to grab a drink or two while you're there and don't forget to use your 10% Pulse Perks discount.
We hope you're keen to try all the cafes on campus, which one will you be visiting first? Enjoy supporting your local Campus Community.